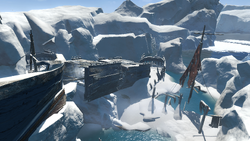 HMS Sapphire wreck was a shipwreck site located in the Fort Baie Rouge region of the North Atlantic. Home to arctic animals such as polar bears and great auks, the ship and its surrounding area were explored by the Templar Shay Cormac during the mid-18th century.[1]
While searching HMS Sapphire, Shay managed to locate and loot several treasure chests, gaining money and an upgrade plan for his own vessel, the Morrigan. He also uncovered a sealed door, preventing access to Templar armor dating back to the 11th century. After recovering all the Templar artifacts, Shay was able to unlock the door and acquire the armor.[1]
Appearance
References
Ad blocker interference detected!
Wikia is a free-to-use site that makes money from advertising. We have a modified experience for viewers using ad blockers

Wikia is not accessible if you've made further modifications. Remove the custom ad blocker rule(s) and the page will load as expected.