Here we seek to open the minds of men.


This article is a stub and is in need of expansion. You can help the Assassin's Creed Wiki by expanding it.
This article is about James Cook's ship. You may be looking for the 1710 ship of the same name.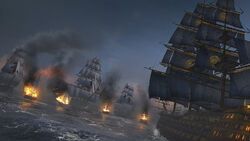 HMS Pembroke was a Man O' War in the Royal Navy, and was widely known for participating in the Siege of Louisbourg in June 1758. The ship was captained by the cartographer and explorer, James Cook, and the Templar Shay Cormac briefly piloted the ship during the Louisbourg siege.
Reference
Edit