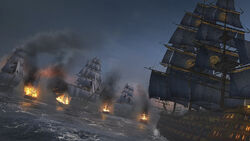 HMS Pembroke was a Man O' War in the Royal Navy, and was widely known for participating in the Siege of Louisbourg in June 1758. The ship was captained by the cartographer and explorer, James Cook, and the Templar Shay Cormac briefly piloted the ship during the Louisbourg siege.
Later, Cook used the ship when he meet up with Shay Cormac in his ship, the Morrigan, concerning the location of the Assassin, Chevalier de la Verendrye and an unnamed British officer took the helm of the ship while their captain is out. The Pembroke remained wh
en Cook and Shay pursued the Assassin in his ship, the Gerfaut. Later, after Shay killed Chevalier, the Pembroke arrived and sunk the disabled Man O' War before arriving for Cook to return.
Trivia
Reference