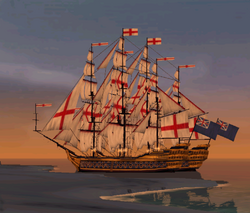 HMS Ormonde was a Royal Navy legendary ship encountered by the pirate Alonzo Batilla near Nassau, during the early 18th century.
HMS Ormonde and its twin ship, HMS Pembroke, were secretly dispatched to the Caribbean to protect precious cargo and escort confidential missions to the New World. The ships operated together and often used one ship as a lure to attract, trap, and destroy enemies.
Reference
Edit
Ad blocker interference detected!
Wikia is a free-to-use site that makes money from advertising. We have a modified experience for viewers using ad blockers

Wikia is not accessible if you've made further modifications. Remove the custom ad blocker rule(s) and the page will load as expected.