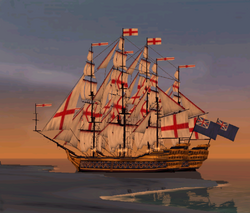 HMS Ormonde was a Royal Navy legendary ship encountered by the pirate Alonzo Batilla near Nassau, during the early 18th century.
HMS Ormonde and its twin ship, HMS Pembroke, were secretly dispatched to the Caribbean to protect precious cargo and escort confidential missions to the New World. The ships operated together and often used one ship as a lure to attract, trap and destroy enemies.
Historically, HMS Pembroke and HMS Ormonde were broken up in 1726 and 1733, respectively.
Reference
Edit