Grosseto is a city in central Italy. It is the capital of the province of the same name, within the region of Tuscany.
2012 blockade
Edit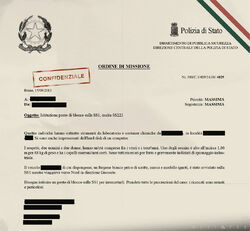 On 15 September 2012, the State Police in Rome received a confidential order to set up a roadblock in Grosseto on SS1 (State Highway 1), covering exit SS223, for the purpose of intercepting a team of Assassins that was fleeing northward from the Italian capital. The order referred to two men (Desmond Miles and Shaun Hastings) and two women (Lucy Stillman and Rebecca Crane) as dangerous fugitives who were wanted for theft and industrial espionage.
The following day, the roadblock forced the Assassins - who had hoped to reach Switzerland - to instead head for Monteriggioni, farther north in Tuscany.
Reference
Edit
Ad blocker interference detected!
Wikia is a free-to-use site that makes money from advertising. We have a modified experience for viewers using ad blockers

Wikia is not accessible if you've made further modifications. Remove the custom ad blocker rule(s) and the page will load as expected.