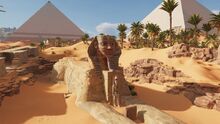 The Great Sphinx of Giza, often known simply as the Sphinx, is a limestone statue located in Giza, Egypt. Easily one of Egypt's more recognizable monuments, it lies within the Giza necropolis, a short distance to the east from the Pyramid of Khafre, and represents the mythical creature for which it is named. It is widely believed to be a monument to Khafre, built during the Old Kingdom. 
During his time traveling Egypt, Bayek encountered the Sphinx and explored a series of tunnels hidden below the statue, leading him to the Isu ruin of Eesfet Oon-m'Aa Poo. The Medjay also visited the market set up in the colonnade near the monument during his search for the member of the Order of the Ancients known as the Hyena. 
Reference
Ad blocker interference detected!
Wikia is a free-to-use site that makes money from advertising. We have a modified experience for viewers using ad blockers

Wikia is not accessible if you've made further modifications. Remove the custom ad blocker rule(s) and the page will load as expected.