Godfrey
Talk

0
4,594pages on
this wiki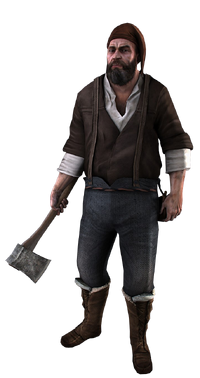 Godfrey was a Scottish lumberjack who resided within the Davenport Homestead during the American Revolution, with his wife Catherine and his children.
Biography
Edit
Early life
Edit
Prior to residing on the Homestead, he and his companion Terry had a camp set up nearby, north of Champlain, New York, as they had been hoping to open a mill in the area at the time. They resided there with their wives, along with their children. He described the distance from their camp to the Davenport Homestead as a "few rods" away.
Meeting Connor
Edit
Around this time, the pair had been directing logs on the river when Terry somehow became submerged in the water, clinging frantically to a log and choking, as he drifted towards a waterfall. On Godfrey's call for help at the Homestead manor, a young Connor saved Terry, offering the both of them to set up a sawmill at the Homestead. They then provided the place with lumber, which could later be sold or crafted into wooden items to raise income.
Life on the Homestead
Edit
Following a thief's attempt to rob Terry's home on the Homestead, Godfrey and Terry erupted into a brawl over whose fault it was over leaving the houses unattended. Connor broke them up, and Godfrey later revealed he hadn't actually wanted to hurt Terry, and Terry felt similarly, revealing he had a temper problem.
Some time after, when Father Timothy arrived at the Homestead and revealed himself to come from London, Godfrey chuckled, as he had little regard for members of the British. Timothy, however, revealed himself to be of no allegiance, and wished to remain neutral, before the townsfolk agreed to erect a church for him to preach at.
Later, Godfrey attended Norris and Myriam's wedding, and celebrated at the reception held in "The Mile's End". He also attended the funeral of Achilles Davenport, and laid a rose on his coffin.
Godfrey revealed at Norris and Myriam's wedding reception that his younger brother Joseph had erupted into a brawl with one of Terry's cousins at Godfrey's wedding, resulting in the cousin being thrown into a river. It was implied that they were both drunk, and were both attracted to a young woman who was present. After Terry's cousin was thrown into the river, he watched Joseph and the woman dance as he sat sadly on a stump.
It is revealed that both Godfrey and Catherine were illiterate, as they required Father Timothy to read a letter received from Catherine's family regarding the death of Catherine's brother.

They also required Father Timothy to read a letter sent from Godfrey's sister, who had given birth to a daughter, Eleanor.

Godfrey smoked a pipe, as he was seen puffing on one in "The Mile's End" from time to time.
The clothes worn by Godfrey could also be seen on multiple lumberjacks scattered around various simulated locations contained within the console stage of Abstergo Entertainment's Animus technology.
While Godfrey and David Walston arm-wrestled in "The Mile's End," they both evenly matched each other and forfeited, calling it a "gentlemens' draw."
Godfrey believed that he could "set the calendar" by Terry and Godfrey's brawl's, as they occurred frequently, but he stated that it was nothing to worry about to Connor.
Upon erecting the Bowls' field on the Homestead, Terry believed he could finally beat Godfrey in something, but still failed, although he insisted that he was winning until Connor came along.
Godfrey was a heavy alcoholic, as he was seen stumbling back to his home from the "Mile's End" at times, clutching a bottle.
When the news of his niece's birth was received, he rejoiced, calling her a "wee bairn," which, in simpler terms, means "small child."
Reference
Edit