Gladiator
Talk

0
3,887pages on
this wiki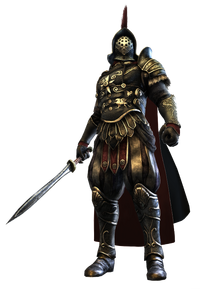 The Gladiator (real name: Anacletos) was an Animi Avatar used by Abstergo Industries for the second stage of the Animi Training Program, used to train their recruits. He was unlocked through a system update, and wielded a spatha as his specialty weapon, which was a Roman cavalry sword.
Unique Moves
Edit
The Gladiator had several unique moves:
(Low Profile, Front)
The Gladiator approaches his target and unsheathes his spatha. Before his victim can react, he brutally smashes his sword's hilt against their face, knocking them off balance. The Gladiator then uses this to his advantage, driving his spatha into their stomach and killing them.
(Low Profile, Back)
The Gladiator walks up behind his target and unsheathes his sword, before suddenly slashing them across the back of their legs, causing them to drop to their knees. He then follows through with his attack by wedging his spatha into the right of his victim's waist, before pushing them off with his foot and leaving them bleeding to death.
(High Profile, Front)
The Gladiator rushes up to his target and savagely grasps their throat. Cruelly squeezing, the Gladiator lifts his victim off the floor and unsheathes his spatha, before sweeping their legs from under them and dropping them on the floor. Raising his sword, the Gladiator viciously slashes his sword down, cutting their stomach open and leaving them for dead.
(High Profile, Back)
The Gladiator runs up behind his target and withdraws his spatha from his belt. Wielding his sword one-handedly, he skilfully swings it into his victim's leg, slashing a deep wound that unbalances them slightly and causes them to turn in agony, as the Gladiator fluidly spins beside them to build up momentum. Once he fully rotates himself, he savagely chops his spatha into their face, sending them hurtling sideways to their death as he sheathes his sword.
(Bench Kill)
The Gladiator grabs his seated target's foot and drags them off the bench, until their head rests against it. Before his victim can do anything to defend themselves, the Gladiator forcefully kicks them in the face, violently sending their head backwards and breaking his target's neck on the bench behind them.
(Aerial Kill)
The Gladiator leaps from above and draws his spatha in mid-air. While his target looks up and spots him, they are unable to stop the Gladiator crashing down on top of them, as gravity aids his heavy armor. With his sword, he stabs his victim's chest deeply, impaling their heart and killing them instantly. From there, the Gladiator stands up and sheathes his sword away, leaving his target dead.
"No challenge!"
"Meet your doom!"
"Too easy!"
"You are nothing!"
"Drop your weapon!"
Customization
Edit
The Gladiator could be customized in many different ways:
Colors:
Basic: Crimson red.
Extra 1: Purple.
Extra 2: Royal blue.
In-depth customization:
Heads:

Head 1: An average gladiator helmet with a multi-holed visor.
Head 2: A bigger gladiator helmet with side spikes and a regular visor.
Head 3: A helmet with the face of Jupiter as the face plate.

Chests:

Chest 1: A metal vest with left shoulder guard.
Chest 2: Strapped armour with feathered spaulders.
Chest 3: A bigger, more armoured version of 2.

Arms:

Arms 1: Gauntlets with sleeves.
Arms 2: Bigger version of 1.
Arms 3: No gauntlets, just bracers.

Legs:

Legs 1: Boots with leg bracers.
Legs 2: More armoured version of 1.
Legs 3: Less armoured than 1 or 2.

Belts:

Belt 1: A large featherd belt.
Belt 2: A lion's-head buckle.
Belt 3: A version of 1 with a flap down the front.

Accessories:

Accessory 1: A large silk cape.
Accessory 2: A smaller crested cape.
Accessory 3: A smaller version of 1.
Main Weapons:
Axes:

Basic:
Gladiator's Small Axe:

Long Swords:

Basic:
Gladiator's Long Sword 01:
Gladiator's Long Sword 02:

Sledge Hammers:

Basic:
Gladiator's Sledge Hammer:
Secondary Weapons:
Gladiator's Hidden Blade:
Gladiator's Pike:
Gladiator's Katar:
There is a multiplayer achievement called "The Juggernaut" in Revelations for performing three kills using the Charge ability as the Gladiator, only available to those who have downloaded The Ancestors Character Pack.
The attire of the Gladiator resembles that of a Papal Guard.
All items available for customizing the Gladiator were included within the downloadable content for him, and as such, do not need to be unlocked via progression in the Animi Training Program.
The Gladiator shares his High Profile, Back animation with the Count, and his High Profile, Front kill move with a basic mace animation.
Reference
Edit