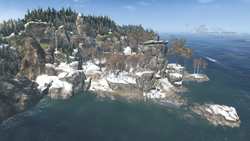 Glace Bay is a community in Nova Scotia, Canada.
During the mid-18th century, it was a largely uninhabited region, with its mountaineous terrain primarily populated by deer and beavers. Glace Bay also possessed a hunting lodge at the time, which was initially occupied by gang members, before being freed from their control and then renovated by the Templar Shay Cormac.
Trivia
Glace Bay is derived from the French baie de glace, which translates to "bay of ice".
Reference
Ad blocker interference detected!
Wikia is a free-to-use site that makes money from advertising. We have a modified experience for viewers using ad blockers

Wikia is not accessible if you've made further modifications. Remove the custom ad blocker rule(s) and the page will load as expected.