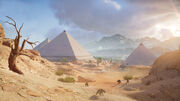 Giza is the third largest city of Egypt, located on the west bank of the river Nile. It is famous for being home to the Great Pyramids and the Great Sphinx, as well as several other monuments. In ancient times, it was the necropolis of the nearby city of Memphis, the capital of Egypt during the Old Kingdom.
Reference
Ad blocker interference detected!
Wikia is a free-to-use site that makes money from advertising. We have a modified experience for viewers using ad blockers

Wikia is not accessible if you've made further modifications. Remove the custom ad blocker rule(s) and the page will load as expected.