Patience, brothers. Soon we will reveal the secrets of Assassin's Creed: Origins.


This article has been identified as being out of date. Please update the article to reflect recent releases and then remove this template once done.
Here we seek to open the minds of men.


This article is a stub and is in need of expansion. You can help the Assassin's Creed Wiki by expanding it.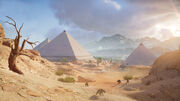 Giza is a desert region in central Egypt, located on the western bank of the river Nile, and home to the Giza pyramid complex. It is home to the Great Pyramids and the Great Sphinx, as well as several other monuments. In ancient times, it was the necropolis of the nearby city of Memphis, the capital of Egypt during the Old Kingdom.
Appearance
Reference