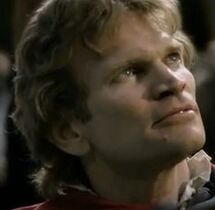 Giovanni Andrea Lampugnani (1454 – 26 December 1476) was a member of Milanese nobility, one of the assassins of Galeazzo Maria Sforza, and a member of the Templar Order.
Biography
On 26 December 1476, Lampugnani and his fellow Templar brethren, Carlo Visconti and Gerolamo Olgiati, attended Mass at Santo Stefano. When the Duke arrived, Lampugnani went down on one knee before him, and then struck the first blow to Sforza. Despite his best efforts to prevent Sforza's death, the Assassin Giovanni Auditore da Firenze attempted to capture Lampugnani alive, but Sforza's Moor bodyguard killed him before Giovanni could do so.
Reference
Ad blocker interference detected!
Wikia is a free-to-use site that makes money from advertising. We have a modified experience for viewers using ad blockers

Wikia is not accessible if you've made further modifications. Remove the custom ad blocker rule(s) and the page will load as expected.