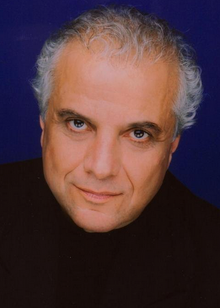 Gennaro "Gerry" Mendicino
 is a Canadian actor. He graduated from the University of Windsor Drama School and began his acting career on the television series 
King of Kensington
 then went on to host the TV series 
Polka Dot Door
. He portrayed Sam Ramone in the television series 
Ready or Not
. Other significant roles include Uncle Taki in 
My Big Fat Greek Wedding
 and Dominic in 
Kung Fu: The Legend Continues
. He's also been tortured in  
Saw 6 
and danced with John Travolta in 
Hairspray.
 Gerry reprised his role as Uncle Taki in  
My Big Fat Greek Wedding 2
.
Gerry Mendicino has performed in plays across Canada including  Italian Funerals and other Festive Occasions,  One Flew Over the Cuckoo's Nest,  Speed the Plow,  42nd Street,  Three Men on a Horse,  The Kite Runner,  Lend Me a Tenor, Moose on the Loose and his one man musical play My Baby Boomers Blues. In 2017, he gave his voice talent to Pothinus.
Ad blocker interference detected!
Wikia is a free-to-use site that makes money from advertising. We have a modified experience for viewers using ad blockers

Wikia is not accessible if you've made further modifications. Remove the custom ad blocker rule(s) and the page will load as expected.