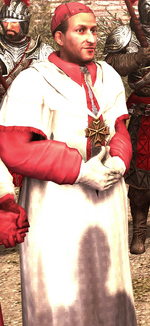 Georges d'Amboise (1460 – 25 May 1510) was a French Roman Catholic Archbishop of Rouen during he reign of Louis XII of France. He simultaneously served as minister of state in which capacity he supported French influence in Italy.
Biography
A group of Italian Assassins interrogated Georges in Paris regarding the whereabouts of a missing Brotherhood member. Eventually, he gave them a list of names of ministers who were in league with the Borgia, whom the Assassins then killed.[1][2]
In September 1503, Georges attended a Templar loyalist meeting in the Colosseum where he, along with other cardinals, informed Cesare Borgia that Giuliano della Rovere had been elected as Pope, rather than any pro-Borgia candidate. However, Cardinal d'Amboise was scared away from the meeting after the Italian Assassin Mentor, Ezio Auditore da Firenze, appeared to confront Cesare wielding an Apple of Eden.[1]
Gallery
Appearances
References