Where are the paintings?


This article is in need of more images and/or better quality pictures in order to achieve a higher status. You can help the Assassin's Creed Wiki by uploading better images on this page.
This article is about the Templar burned at the stake. You may be looking for his relative in possession of the Shroud of Eden.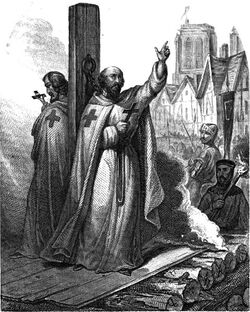 Geoffroi de Charney (unknown – 18 March 1314) was the Preceptor of Normandy for the Knights Templar. In 1307, de Charney was arrested alongside countless other Templars on orders of King Philip IV of France, and was burned at the stake alongside Grand Master Jacques de Molay on 18 March 1314.[1]
Geoffroy de Charny, a member of the family of Geoffroi's grandson, was another notable Templar and owner of the Shroud of Eden, until the artifact was stolen by the Assassins.[2]
References
Edit
Ad blocker interference detected!
Wikia is a free-to-use site that makes money from advertising. We have a modified experience for viewers using ad blockers

Wikia is not accessible if you've made further modifications. Remove the custom ad blocker rule(s) and the page will load as expected.