"Welcome to Galata district. For centuries it has been a home to orphans from Europa and Asia alike. You won't find more diversity anywhere else in the city."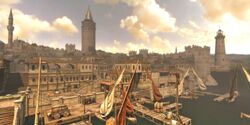 Galata was one of the four major districts of Constantinople during the Renaissance. It was the base of the Turkish Assassins.
Residing across the waters of the Golden Horn and separated from the rest of the city, it was Constantinople's most cosmopolitan district. It was full of varied architecture, drawing from Italian, Ottoman, Byzantine, Ancient Greek, and Asian influences; it is more or less the rich district of Constantinople.
Alongside Galata Tower, several bomb crafting stations, black market dealers, a bookshop, a tailor, a blacksmith, several doctors and a bank were located in the district.
In 2012, Abstergo Industries used a virtual representation of the location in the second stage of the Animi Training Program.
Gallery
Reference
Ad blocker interference detected!
Wikia is a free-to-use site that makes money from advertising. We have a modified experience for viewers using ad blockers

Wikia is not accessible if you've made further modifications. Remove the custom ad blocker rule(s) and the page will load as expected.