Frontier
Talk

3
3,878pages on
this wiki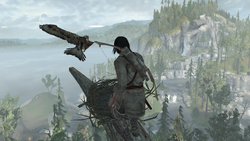 The Frontier was a vast area of countryside located in the northeast United States. The Frontier played host to several battles of the French and Indian War and the American Revolutionary War.
The Frontier consisted mostly of wilderness inhabited by a variety of animals. Hunting Regions split up the land, where hunters could track and kill different types of game.
While Boston and New York City were the primary settlements located near the Frontier, the countryside itself also contained several small Native American and European settlements. These included the towns of Lexington, Concord, Charlestown, and the Kanien'kehá:ka village, Kanatahséton. Small logging, fishing, and mining posts could also be located.
As the Revolutionary War waged on, the condition of the towns would change as a consequence of the battles. At different times, battalions of men could be found readying for a charge, or injured soldiers could be spotted.
The Frontier was 1.5 times larger than Assassin's Creed: Brotherhood's Rome, making it the largest map in the Assassin's Creed series to date.
The Frontier was the setting for about a third of the main storyline content for Assassin's Creed III.
It was impossible to reduce notoriety in the Frontier.
Peddlers could be found riding carts around tracks where Connor could sell the products from hunting and buy consumables.
The entrance to the Grand Temple could be found at the far North of the map, in the Black Creek region.
In the Monmouth region, a red enemy dot appeared on the mini map inside a small building with injured men inside. However, the dot belonged to a woman who paced the inside of the building, and did not attack Connor. It is unknown why she was identified on the mini map.
During the events of The Tyranny of King Washington, the Frontier was littered with the dead bodies of slaughtered Redcoats and other civilians. Dead horses could also be found.
Reference
Edit