We do this together or not at all.


It has been proposed that this page be merged, or partially merged with Cuttoe Sword and Cuttoe Sword (Liberation), under the article: French Cuttoe. Discussion to this effect can be held on the former article's talk page.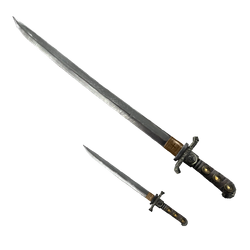 The French cuttoe was a hanger sword of French design which was supplemented by a shorter but otherwise identical parrying dagger. During the French and Indian War, the Templar Shay Cormac acquired it from a treasure chest in Fort de Sable on the North Atlantic.[1]
Weapon statistics
Appearance
References