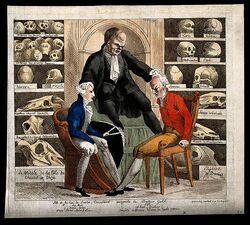 Franz Joseph Gall (9 March 1758 – 22 August 1828) was a German neuroanatomist and physiologist claimed as the founder of phrenology.
Although phrenology is now considered pseudoscience, Abstergo Industries claims to have discovered evidence to the contrary through their research in genetic memory.
Reference
Edit
Ad blocker interference detected!
Wikia is a free-to-use site that makes money from advertising. We have a modified experience for viewers using ad blockers

Wikia is not accessible if you've made further modifications. Remove the custom ad blocker rule(s) and the page will load as expected.