Ad blocker interference detected!
Wikia is a free-to-use site that makes money from advertising. We have a modified experience for viewers using ad blockers

Wikia is not accessible if you've made further modifications. Remove the custom ad blocker rule(s) and the page will load as expected.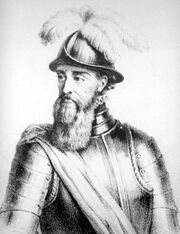 Francisco Pizarro González (1471 or 1476 – 26 June 1541) was a Spanish conquistador and a Marquess, whose conquests reached South America and the Inca Empire of Peru, and later founded Lima. Pizzaro tyrannically ruled over Peru and was affiliated with the Templar Order. On 26 June 1541, he was killed by the Assassins.
Reference
Edit