Discover your Legacy
4,841pages on
this wiki
Forum page
Sign your posts with four tildes (~~~~). Posts unsigned will be deleted. Any user who posts 3 times without signing will be blocked from the forums for three days.
Note
: This topic has been unedited for
618 days
. It is considered
archived
- the discussion is over. Do not add to unless it
really
needs a response.
I was recently on the Discover Your Legacy facebook app, and I decided to look up the links in the video.
Gallery

I typed in the link, xecompany.com/,
and I was redirected twice. First to UStrainning.com/ and then to Academi.com/. A real goverment trainning facility.
Academi
(motto: Elite Trainning, Trusted Protection)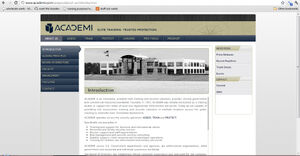 An Excerpt from the Site.
"ACADEMI is an innovative, privately-held training and security solutions provider serving government and commercial industries worldwide. Founded in 1997, ACADEMI was initially envisioned as a training facility to support the needs of local and regional law enforcement personnel. Today we are capable of providing risk assessment, training and security solutions in multiple locations across the globe, reacting to need with near-immediate deployment.
ACADEMI operates across the security spectrum: ASSESS, TRAIN and PROTECT.
Specifically, we specialize in:
Training and support for domestic and international clients
Personnel and facility security services
Mission support and staff augmentation
Risk management and security services consulting
Stability support, crisis response and forward base operations
Training for civilians, law enforcement and military personnel
ACADEMI serves U.S. Government departments and agencies, law enforcement organizations, allied government and corporate and individual customers worldwide.
The Board of Directors has established ethical corporate governance and oversight for the company, with a guiding vision to empower a talented collection of seasoned professionals with a wide range of disciplines, directing them to develop cost-efficient and operationally effective solutions for clients. These efforts and all activities throughout the company are guided by six core principles of integrity, governance, excellence, dignity, teamwork and innovation.
Our 7,000-acre flagship training center, located in Moyock, N.C., is the largest private training center in the United States. This facility boasts many unique training facilities, including 50 tactical ranges, five ballistic houses, multiple MOUT/scenario facilities, three ship-boarding simulators, two airfields and three drop-zones, a three-mile tactical driving track, 25 classrooms, multiple explosive training ranges, two private training centers, accommodations for over 300 personnel and other training support activity centers. The facility proudly represents the DNA of our company and is the model of and support system to our satellite operations located in Salem, Conn. and San Diego, Calif. ACADEMI's corporate headquarters is located in Arlington, Va.
We have the experience and resources to deliver large-scale critical assistance to clients, including tens-of-thousands of security missions in the previous seven years, in hostile environments such as Afghanistan and Iraq. In addition to on-site operations, we have also provided training to more than 50,000 foreign military, counter-terrorism specialists, law enforcement agents and U.S. government personnel. As one of the world's most successful training and security service corporations, we are a leading provider of risk-mitigation solutions in an evolving matrix of local, regional and global threats. Each and every day we train and work down-range, to set the bar for the best-in-class operational excellence across the industry and to demonstrate the highest degree of integrity and professional ethics.
The ACADEMI Name
Our name comes from the Greek akademia, an institution founded by Plato and rooted in higher wisdom and skill, producing both thinkers and warriors alike.
ACADEMI is that institution today."
I then went on to the PROSHOP.
ProShop Gallery

One of the featured Items was a Templar T-shirt that states, "OUR MEETING IS NO ACCIDENT, IT IS GODS WILL"
Does anyone have any comments? (signed: Scarlettjester).
---
I took the liberty of tidying this up scarletjester and I hope you do not mind. This is very interesting and a great find. -- ► Kaloneous ◄ ♣HelpDesk♣ 23:54, June 13, 2012 (UTC)
I don't mind, thanks for the help. I am pretty new to this. Scarlettjester 00:17, June 14, 2012 (UTC)
All I really did was add galleries and you did everything perfect anyways. :) I think you should make a blog about this too because it would stand out more. All you need to do it copy and paste all of this to a blog post. This kind of info is great and adds so much more to what they are doing in the series and the trick to creating a popular blog is all in the title because the info is already here and a catchy title will make users notice and get the discussion going. -- ► Kaloneous ◄ ♣HelpDesk♣ 00:23, June 14, 2012 (UTC)
That's just a shirt available from the Pipe Hitter's Union(http://www.pipehittersunion1.com/about.html). I doubt it has any connection to Ubisoft, let alone Templars. They probably used the templar cross+shield combo because of it's historical value of the Knights Templar being 'Knights of God'. DeltaEcho 19:35, June 18, 2012 (UTC)