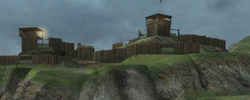 Fort Phoenix was an abandoned fort. It was located on the coast not far from Martha's Vineyard.[1]
In 1773, Templars had taken refuge in Fort Phoenix, from where British ships stalked and destroyed civilian Colonial vessels, such as merchant ships. They often sailed around Martha's Vineyard, endangering the trade route.[1]
The Assassins Connor and Robert Faulkner sailed the Aquila to the trade route to destroy the British fleet. They followed several escaping ships, which went back to Fort Phoenix. When they came closer, mortars were fired from the fort, and the Aquila returned fire, destroying the towers and rendering the fort harmless.[1]
Gallery
Appearance
References
Ad blocker interference detected!
Wikia is a free-to-use site that makes money from advertising. We have a modified experience for viewers using ad blockers

Wikia is not accessible if you've made further modifications. Remove the custom ad blocker rule(s) and the page will load as expected.