He who increaseth knowledge, increaseth sorrow.


This article contains spoilers, meaning it has information and facts concerning recent or upcoming releases from the Assassin's Creed series. If you do not want to know about these events, it is recommended to read on with caution, or not at all.

This template should be removed from the article 5 January 2019.
Where are the paintings?


This article is in need of more images and/or better quality pictures in order to achieve a higher status. You can help the Assassin's Creed Wiki by uploading better images on this page.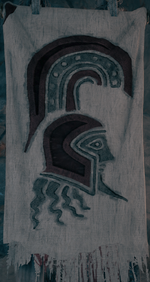 The Followers of Ares was a minor Greek faction which worshipped Ares, the Greek god of war. They were notable for their practice of sacrificing the land's fauna and people in service to their god. They were hostile to anyone who stumbled upon them and would often visit towns to preach their religion.
Description
Described as being 'sadistic cult of fanatics' who sought 'violence and death', the Followers would attack anyone approaching them.[1]
The banner of the Followers of Ares featured a stylized, helmeted head, presumably that of Ares.[1]
The Followers could easily be recognized, for they wore dark clothes and black hoods, with imitations of skull and bones painted in white on their faces and bodies. At their ceremonies, all would stand in reverence for their god.[1]
The Followers had three distinct ranks:[1]
History
Before the Peloponnesian War, Harpalos, a member of the Cult of Kosmos, approached the Followers of Ares and was welcomed by them. Harpalos' sermons appealed to the Followers, and he rose quickly to lead them, gaining them the blessing of the Cult of Kosmos, and volunteering them as an army for the Cult.[1]
Eventually Harpalos was hunted down by the Spartan misthios Kassandra over the course of her quest to destroy the Cult.[2] Also, during her travels she repeatedly encountered scattered groups of the Followers throughout Greece.[1]
Gallery
Appearance
Reference