Fitting In
Talk

2
4,905pages on
this wiki

Fitting In
Technical information
Description

Learn the ways of the courtesans.

Appearance
Memory type

Main

Previous
Next
Historical information
Ancestor
Location
Date

29 December 1476
Fitting In was a virtual representation of one of Ezio Auditore da Firenze's genetic memories, relived by Desmond Miles in 2012 through the Animus.
Description
Edit
Shocked at the betrayal of Uberto Alberti, a friend of the family, Ezio Auditore reached his home, only to find out that it had been overrun by the city guards, who were hunting him.
Now a wanted man, Ezio tried to make sure his mother and sister were safe. After nightfall, Ezio tried to return to his home, but didn't enter when he saw guards posted around the building, so he waited nearby for Annetta.
Annetta: Ser Ezio, thank God! I've been looking everywhere for you.
Ezio: I... I couldn't stop them Annetta. I tried, I swear! But there were so many guards...
Annetta: Please. Come with me. We need to get you off the streets.
Ezio: What of my mother and sister?
Annetta: They're safe. I'll bring you to them.
Ezio: No! It's too dangerous for us to travel together. Tell me where to go and I'll meet you there.
Annetta: My sister's house, just north of the Duomo.
Ezio: I'm on my way.
Ezio carefully made his way to La Rosa Colta, where he and Annetta both entered into the building, which turned out to be a brothel.
Ezio: I think we have the wrong building...
Annetta: No, no. This is it.
A woman approached Ezio.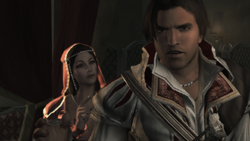 Paola: It is a pleasure to make your acquaintance, Messer Ezio...
Annetta speaks quite highly of you. I can see why.
Ezio: I appreciate the kind words Madonna...?
Paola: Ti prego (Please), call me Paola.
Ezio: Thank you for offering your home to my family, Paola.
Paola: It was the least I could do. You must be tired. Perhaps you'd li–
Ezio cut Paola off.
Ezio: No, grazie. (No thank you.) I can't stay.
Paola: Why? Where are you going?
Ezio: To kill Uberto Alberti.
Paola: I understand your desire for vengeance, but the Gonfaloniere is a powerful man. You're not a killer, Ezio–
Ezio: Spare me the lecture.
Paola: –But I can make you one.
Ezio: And why are you going to teach me how to kill?
Paola: I'm not. I'm going to teach you how to survive.
Come.
The next day, Ezio followed Paola to the back of the building. She instructed him about the ways of blending into the crowd.
Paola: Discretion is a paramount in my profession. We must walk the streets freely: seen, but unseen. You too must learn to blend like us and become one with the city's crowds.
My girls will show you how...
Ezio followed Paola's instructions. To test him, they took a walk around the brothel. Ezio kept moving from one group to the next, confusing any guard who might have seen him.
Paola: Come a little bit closer, Ezio...
Courtesan: We'll take good care of you...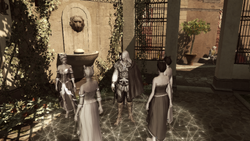 After returning to the brothel Paola taught Ezio how to steal.
Paola: Bene! (Good!) Now that you've learned to blend. I'll show you how you can use it for more than just moving around.
Let's teach you how to steal.
Courtesan: Thief! Thief!
Paola: Once you've stolen from someone Ezio, You mustn't linger.
Courtesan: Help! Somebody stop him!
Paola: Pay attention! You must leave once you've picked their pocket.
Ezio learned how to steal after pickpocketing a few people in the vicinity.
Paola: You can go now, girls.
Courtesans: Do we have to?
So innocent...
He's cute...
Paola: Now that you've learned how to approach the enemy, we need to find you a suitable weapon.
Ezio: What would you have me use?
Paola: Ah, but you already have the answer...
Paola produced Giovanni Auditore's broken Hidden Blade.
Ezio: Hey! My father's blade and bracer... How did you get them?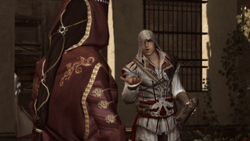 Paola: By using the same skills I've just taught you.
Ezio: It's not exactly in working condition.
Paola: I assume you are familiar with Leonardo da Vinci?
Ezio: Sì. (Yes.) But how does a painter factor into this?
Paola: He's far more than that. Bring him the pieces. You'll see.
Ezio: Before I go, one last question – if I may?
Paola: Of course.
Ezio: Why have you given your aid so readily to me, a stranger?
Paola pulled up her sleeve to show scars on her forearm, the result of being tortured.
Paola: I too know betrayal.
Ezio learned how to steal and blend with the crowd making it easy for him to move freely within the city.
Reference
Edit