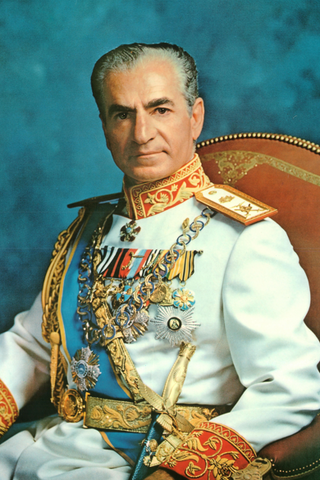 Licensing
Edit
ShahOfIran.png
Check TinEye
Information
Source

pahlavi.org

Author/Artist

Ghazarians

Licensing

This work is now in the public domain in Iran, because according to the Law for the Protection of Authors, Composers and Artists Rights (1970) its term of copyright has expired for one of the following reasons: • The creator(s) died before 22 August 1980, for works that their copyright expired before 22 August 2010 according to the 1970 law. • The creator(s) died more than 50 years ago. (Reformation of article 12 - 22 August 2010) In the following cases images fall into public domain after 30 years from the date of publication or public presentation (Article 16):

• Photographic or cinematographic works. • In cases where the work belongs to a legal personality or rights are transferred to a legal personality. The media description page should identify which reason applies. For more information please see: Commons:Copyright rules by territory#Iran.
File history
Click on a date/time to view the file as it appeared at that time.
Metadata
Ad blocker interference detected!
Wikia is a free-to-use site that makes money from advertising. We have a modified experience for viewers using ad blockers

Wikia is not accessible if you've made further modifications. Remove the custom ad blocker rule(s) and the page will load as expected.