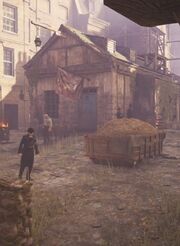 Field Lane was a neighborhood in London, United Kingdom, located in the City of London
Field Lane was once home to an infamous market, which was often overlooked by the police. Around the mid-nineteenth century, the Blighters, led by Bloody Nora, took control of the area and turned it into one of the three strongholds they held throughout the borough.
In 1868, the Rooks, led by the Assassins Jacob and Evie Frye managed to take control of the stronghold from the Blighters, weakening the Templar hold on London.
Reference
Edit
Ad blocker interference detected!
Wikia is a free-to-use site that makes money from advertising. We have a modified experience for viewers using ad blockers

Wikia is not accessible if you've made further modifications. Remove the custom ad blocker rule(s) and the page will load as expected.