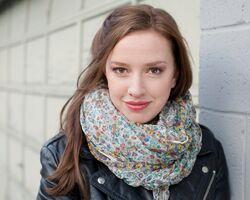 Ferelith Young is a stage, screen and voice actress based in Toronto, Ontario. She voiced and provided the motion capture for Ned Wynert in Assassin's Creed: Syndicate.
Young finished her Bachelor of Arts at McGill University, following which she moved to New York City to study at the Neighborhood Playhouse School of the Theatre. She has since appeared in plays across North America, such as Stag and Doe, A Midsummer Night's Dream and When the Fall Is All That's Left.
Her television credits include Reign, Love Is Dead and The Beautiful Life. Young has also featured in films like Orphan, Affinity and The Last Kiss.
Assassin's Creed works
Assassin's Creed: Syndicate (2015) - Ned Wynert
External links
Ad blocker interference detected!
Wikia is a free-to-use site that makes money from advertising. We have a modified experience for viewers using ad blockers

Wikia is not accessible if you've made further modifications. Remove the custom ad blocker rule(s) and the page will load as expected.