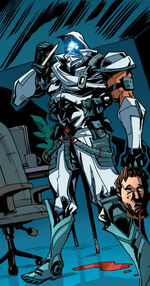 Felix Oladele (unknown - 2017) was an employee of Abstergo Entertainment working on its campus in Montreal. A specialist of the Animus, Oladele was also an Erudito sympathizer and as such a contact of Guernica Moneo.
In 2017, after Charlotte de la Cruz got stuck into the memory corridor of a malfunctioning Animus, Moneo sent the Assassins Arend Schut Cunningham and Kiyoshi Takakura to kidnap the Abstergo technician.
The Assassins assaulted the campus and butchered the guards, but were ambushed by the turncoat Jasdip Dhami as they entered Oladele's office. Holding the severed head of Felix Oladele, the Instrument was waiting for the two Assassins.
References
Ad blocker interference detected!
Wikia is a free-to-use site that makes money from advertising. We have a modified experience for viewers using ad blockers

Wikia is not accessible if you've made further modifications. Remove the custom ad blocker rule(s) and the page will load as expected.