Ad blocker interference detected!
Wikia is a free-to-use site that makes money from advertising. We have a modified experience for viewers using ad blockers

Wikia is not accessible if you've made further modifications. Remove the custom ad blocker rule(s) and the page will load as expected.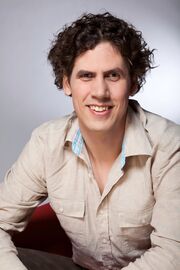 Falko Poiker is a level designer at Ubisoft Montreal where he has worked since 2003. Poiker worked most recently as the Senior Level Designer for Assassin's Creed III.
A graduate of Simon Fraser University Bachelors, Engineering (Computers Option), he immediately started his career in the computer game industry as a designer in the video game industry, both in programming and at concept level design.
Accredited games
Edit
Homeworld (1999) - Sierra On-Line, Inc.
Homeworld (Game of the Year Edition) (2000) - Sierra On-Line, Inc.
Republic: The Revolution (2003), Eidos, Inc. Sierra On-Line, Inc.
Homeworld 2 (2003) - Sierra Entertainment, Inc. - Vivendi Universal Games, Inc.
Tom Clancy's Splinter Cell: Chaos Theory (2005) - Ubisoft, Inc.
Tom Clancy's Splinter Cell: Double Agent (2006) - Ubisoft
Prince of Persia (2008) - Ubisoft
James Cameron's Avatar: The Game (2009) - Ubisoft
Tom Clancy's Splinter Cell: Conviction (2010) - Ubisoft
Assassin's Creed: Brotherhood (2010) - Ubisoft
Assassin's Creed: Revelations (2011) - Ubisoft
Assassin's Creed III (2012) - Ubisoft
External links
Edit