Fabiola Cavazza
Talk

0
4,919pages on
this wiki
This article is about Fabiola Cavazza. You may be looking for her counterpart, Fiora Cavazza.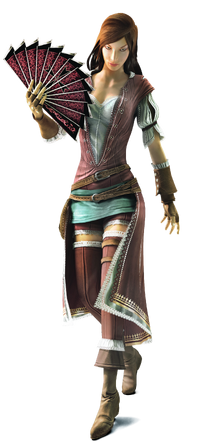 Fabiola Cavazza was a courtesan during the early 16th century, and a member of the Templar Order. She wielded a bladed fan as a weapon, complete with blue etchings.
In 2012, her genetic memories were used as an Animi Avatar by the Templar company Abstergo Industries, for the training of their Animus recruits, under the title of the Courtesan.
Fabiola is ultimately derived from Latin faba ("bean") via Fabius and Fabia.
Though she shares her family name with Fiora Cavazza, the relation between the two remains unclear.
Reference
Edit
Primary stage
Secondary stage
Tertiary stage
Quaternary stage