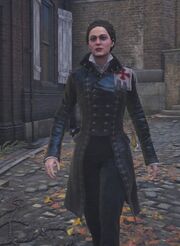 Eveline Dipper (unknown – 1868) was a British Templar, operating out of London during the nineteenth century.
Dipper was known to use her charm to convince people to give her their most precious belongings, even their children if she could find a buyer, which she would then go on to sell to make a profit. Henry Green provided the Assassins Jacob and Evie Frye with Dipper's name and location, finding her turning on the old charm with a client, and assassinated her under cover of a smoke bomb.
Reference
Edit
Ad blocker interference detected!
Wikia is a free-to-use site that makes money from advertising. We have a modified experience for viewers using ad blockers

Wikia is not accessible if you've made further modifications. Remove the custom ad blocker rule(s) and the page will load as expected.