Here we seek to open the minds of men.


This article is a stub and is in need of expansion. You can help the Assassin's Creed Wiki by expanding it.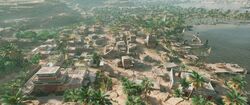 Euhemeria (Greek: Εὐημερία) was an Egyptian port village located on the south bank of Lake Moeris in the Faiyum region. The town was not particularly wealthy, with the exception of Hotephres, his wife Khenut and his daughter Shadya, who owned a stately villa in the area.
History
In 48 BCE, after meeting Hotephres aboard his trireme, the Medjay, Bayek, was sent to the village to meet the informant's wife Khenut, whom he had given The Crocodile's ledger to. Khenut informed Bayek that she had hidden the ledger in the villa, and asked her daughter Shadya to bring him there, only to discover that The Crocodile's soldiers were searching the place.[1]
Bayek infiltrated the villa, only to discover that ledger was in the hands of Shadya. Returning back to Khenut's kitchen, he was informed that The Crocodile had taken Khenut and Shadya to the lighthouse. Rushing to the location, Bayek arrived too late to save Shadya, who was executed by The Crocodile who weighed down her feet with large rocks and submerged her in the waters near the pier, leaving Shadya to drown.[1]
Appearance
References