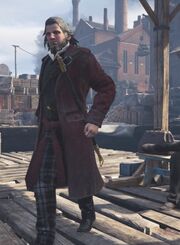 Emmet Sedgwick was a British criminal operating in London during the Victorian era.
By 1868, Sedgwick was a member of the Blighters. He had a long record of breaking and entering, having been pulling jobs since before he could remember. At some point, however, he decided to lay low and assumed a new identity, using the name Tom Smith to hide his true identity, and taking a job at the Southwark docks.
Having discovered Sedgwick's attempt at disappearing, the Metropolitan Police Service wanted him brought in for his crimes. Sergeant Frederick Abberline contacted his Assassin allies, Jacob and Evie Frye. The Frye twins had little trouble kidnapping Sedgwick from the northern docks in Southwark, and delivering him to the authorities.
Reference