Ad blocker interference detected!
Wikia is a free-to-use site that makes money from advertising. We have a modified experience for viewers using ad blockers

Wikia is not accessible if you've made further modifications. Remove the custom ad blocker rule(s) and the page will load as expected.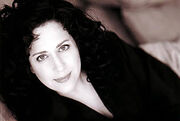 Ellen David is a Canadian actress who was born in Montreal, Canada. She has appeared in TV shows such as Are You Afraid of the Dark?, Dr. Jekyll and Mr. Hyde, The Business, Moose TV, and Naked Josh and has voiced characters in TV shows such as Tripping the Rift, Arthur, Caillou, and Pig City.
In the Assassin's Creed series, David provided the voice of Maria Auditore da Firenze in Assassin's Creed II and Assassin's Creed: Brotherhood.
Assassin's Creed worksEdit
Assassin's Creed II (2009) – Maria Auditore da Firenze
Assassin's Creed: Brotherhood (2010) - Maria Auditore da Firenze
External link
Edit