Ellen
Talk

0
3,886pages on
this wiki

"This flag is a symbol of our strength and unity and I would hope you'd all be proud to fly it high above your homes and shops."
―Ellen upon announcing her creation of the Homestead's flag.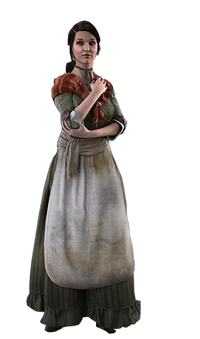 Ellen was a seamstress during the American Revolutionary War, and resident of the Davenport Homestead.
Biography
Edit
Meeting Connor
Edit
One day, the Assassin Connor stumbled upon the frantic daughter of Ellen, Maria, who led him to a domestic dispute between Ellen and her husband, Quincent, which progressed to violence on the latter's part. Upon witnessing this, Connor intervened and subdued Quincent with his fists, before inviting Ellen to move her tailoring business from New York to the Davenport Homestead in the Frontier, allowing her to escape her abusive husband with Maria.
At first, Ellen was hesitant, as it had taken her a great while to build up her tailoring business and home, but she finally agreed. However, Ellen had forgotten a roll of fine silk in New York, which she requested Connor to retrieve for her shortly afterwards. He agreed, and retrieved the silk, later discovering that Quincent had thrown it out of the crate in the process, as he mumbled over his "trollop" of a wife. Upon noticing Connor though, Quincent scurried away, fearful of Connor who had given him a beating previously.
Following Father Timothy's arrival, Ellen voiced her need for Maria to begin reading the Bible, and supported the idea of erecting a church, which did indeed happen.
Life on the Homestead
Edit
Some time later, Quincent eventually tracked her down with a group of thugs and attempted to break into her new home. Seeing the danger they posed, Connor and the other residents of the Homestead came to her defense, where they engaged the louts in a brawl and emerged victorious, before threatening Quincent with death if he ever attempted to harm Ellen again. Ellen thanked them vigorously, as her husband limped away in pain.
Later, after the arrival of Dr. Lyle White, Ellen struck conversation with Connor, Diana, and Prudence, expressing her enjoyment of having the luxury of a doctor on the Homestead. She brought up the fact of her daughter, Maria, had been found by Norris in his mine with a large gash on her knee.
In heartfelt thanks to her friends, for the wedding of Norris and Myriam, Ellen made the appropriate marriage attire, and also later revealed a flag she had sewn as a symbol of the Homestead's harmonious community, expressing a wish that the new nation would follow the example set by its residents. Connor humbly accepted the gift, and flew it from the church flagpole from that point onward.
One such tailored flag of her design would go on to the cover the casket of Achilles Davenport during his funeral, to which Ellen and the whole of the Homestead's residents attended to give their thanks to the "old man on the hill."
After presenting the Homestead flag to the residents she would request that everyone fly it outside of their homes. However, it was only flown outside of the Church.
Reference
Edit