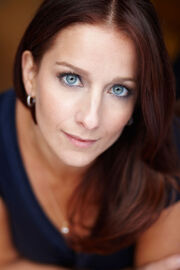 Eleanor Noble is a Canadian voice actress who has voiced characters in television shows such as Tripping the Rift, Arthur, Undressed, and My Friend Marsupilami. She has also voiced characters in video games such as Prince of Persia: The Two Thrones, Prince of Persia: Warrior Within, Splinter Cell, and Wizardry 8.
For her contributions to the Assassin's Creed series, Eleanor provided the voice of Maria Thorpe in both Assassin's Creed and Assassin's Creed: Revelations, as well as the voice and motion capture work for Ellen in Assassin's Creed III.
Assassin's Creed worksEdit
Assassin's Creed (2007) – Maria Thorpe
Assassin's Creed: Revelations (2011) - Maria Thorpe
Assassin's Creed III (2012) – Ellen
External links
Edit
Ad blocker interference detected!
Wikia is a free-to-use site that makes money from advertising. We have a modified experience for viewers using ad blockers

Wikia is not accessible if you've made further modifications. Remove the custom ad blocker rule(s) and the page will load as expected.