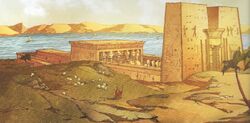 Edfu is a city in Egypt located on the west bank of the Nile River. The city is the site of an Ancient Egyptian temple complex.
In 1341, the Assassin disciple Ali Al-Ghraib was tasked by Numa Al'Khamsin to safeguard the Scepter of Aset in the temple of Edfu, while Numa was away. Upon his return to the temple complex, Numa was tricked and killed by the Templar agent Leila.
Reference
Characters
Characters
(non-canon appearance)
Locations
Factions
Terms
Ad blocker interference detected!
Wikia is a free-to-use site that makes money from advertising. We have a modified experience for viewers using ad blockers

Wikia is not accessible if you've made further modifications. Remove the custom ad blocker rule(s) and the page will load as expected.