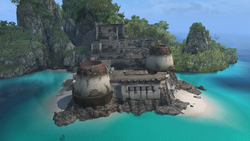 Dry Tortuga was one of a number of forts in the Caribbean, during the early 18th century, that protected the important trade routes. Like most of the forts in the West Indies, it was under the control of the Spanish Navy.
At some point, the pirate Edward Kenway attacked the fort, using his warship Jackdaw to destroy its defenses, before his crew invaded the fort on foot. Edward managed to kill the fort's ranking officers and commander, after which the fort fell under his control.
Edward later killed a Templar agent posing as a gunner in the fort.
Reference
Edit
Ad blocker interference detected!
Wikia is a free-to-use site that makes money from advertising. We have a modified experience for viewers using ad blockers

Wikia is not accessible if you've made further modifications. Remove the custom ad blocker rule(s) and the page will load as expected.