He who increaseth knowledge, increaseth sorrow.


This article contains spoilers, meaning it has information and facts concerning recent or upcoming releases from the Assassin's Creed series. If you do not want to know about these events, it is recommended to read on with caution, or not at all.

This template should be removed from the article three months after release.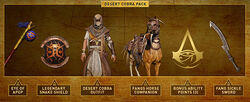 The Desert Cobra Pack is downloadable content for Assassin's Creed: Origins, it was released on 27 October 2017 in accompaniment with the game itself, serving as one of Origin's customization packs.
Contents
1 outfit
1 shield
1 mount
1 staff
1 sword
3 bonus ability points
Reference