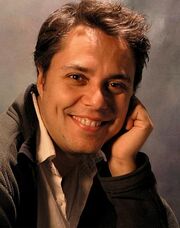 David "Vyle" Levy is a leading international concept artist. He studied industrial design and architecture in France and the Netherlands, and is currently working in Los Angeles, California, as Senior Concept Artist in the movie industry. He has contributed to titles for the PC, Xbox, PS2, PS3, and Xbox 360, and has worked on the development of Prince of Persia series and the Assassin's Creed series while at Ubisoft in Montreal. His unique interests merge video gaming, film and his industrial design background to create fantasy elements at many scales.
Biography
Edit
Levy attended the Academy of Fine Arts Maastricht (NL) where he graduated with honors with a Bachelor of Science degree in Industrial Design and Interior Architecture, including a nomination to the Hoxtinjpreis. Upon graduation, he was invited to become part of a large video game company Cryo, in Paris, as a concept artist. Levy now works freelance at Ubisoft as a Senior Concept Artist and has participated to the development of Prince of Persia: The Two Thrones, and Assassin's Creed. With his friend Barontieri, he created Steambot Studios in 2011, which consists of a collective of artists dedicated to create, inspire and push the boundaries of concept art.
Games credited
Edit
XLR8 - SIMTEX ltd Aldershot UK
Turok: Evolution (2002) - ACCLAIM studios
XGRA: Extreme-G Racing Association (2003) - ACCLAIM studios
NBA Jam (2003) - ACCLAIM studios
Malice (2004) - Argonauts UK (freelance work)
Prince of Persia: The Two Thrones (2005) - Ubisoft
The Da Vinci Code (2006) - REELFX
Assassin's Creed (2007) - Ubisoft
Levy also illustrated a complete comic book for the release of Assassin's Creed.
He also worked alongside Raphael Lacoste in creating magazine illustrations for the promotion of Assassin's Creed as well as providing advice (unaccredited) for Assassin's Creed II.
His nickname is an anagram of his surname and was created because Levy wanted a name that would signify his work.
The following gallery contains concept artwork created by David Levy for Assassin's Creed.
External links
Edit