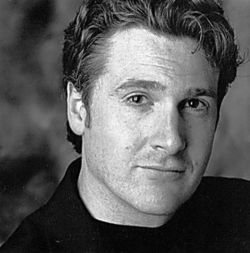 David V. Hope (born 14 October 1964), professionally known as David Kaye, is a Canadian voice actor. Kaye began his career in radio, but his big break in voice acting came in 1989 with a role in G.I. Joe.
Leaving radio, Kaye became widely known for his roles in the Transformers series. He has also had various roles for voice acting in video games such as Dead Island, Batman: Arkham City, and Resistance 2. In addition to voice acting, Kaye has performed various roles for live-action film, and also has done theater work.
In the Assassin's Creed series, Kaye provided additional voices in Assassin's Creed II. He also voiced Salaì in The Da Vinci Disappearance downloadable content pack for Assassin's Creed: Brotherhood.
Assassin's Creed works
Assassin's Creed II (2009) - Additional voices
Assassin's Creed: Brotherhood (2010) - The Da Vinci Disappearance – Salaì
External links