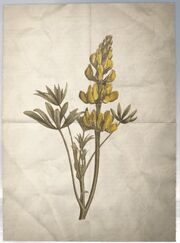 The present, with many other species of Lupine, is very generally cultivated in flower gardens, for the sake of variety, being usually sown in the spring with other annuals; where the flower-borders are spacious, they may with propriety be admitted, but as they take up much room, and as their blossoms are of short duration, they are not so desirable as many other plants.
It is a native of Sicily, and flowers in June and July.
- The Botanical Magazine, Volume 4
Ad blocker interference detected!
Wikia is a free-to-use site that makes money from advertising. We have a modified experience for viewers using ad blockers

Wikia is not accessible if you've made further modifications. Remove the custom ad blocker rule(s) and the page will load as expected.