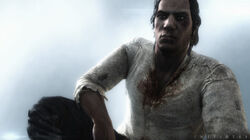 Traveling to New York, George Washington attended the execution of Connor, the man falsely accused of plotting to murder him. As he peered at the gallows, Washington witnessed the Assassin's daring escape.
Lost among the chaos, Washington was attacked by Thomas Hickey, a Templar and traitor, who attempted to seize the opportunity to kill the Continental Army Commander. Luckily, Connor reached Hickey and assassinated him before he could complete his mission. With the Assassin's innocence proven, Washington fled the city and headed for Philadelphia.
Ad blocker interference detected!
Wikia is a free-to-use site that makes money from advertising. We have a modified experience for viewers using ad blockers

Wikia is not accessible if you've made further modifications. Remove the custom ad blocker rule(s) and the page will load as expected.