New York City//USA//1783-12-04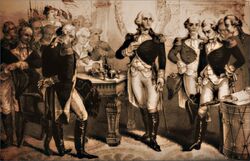 The Treaty of Paris was signed on September 3, 1783, formally ending the Revolutionary War between Great Britain and the American Colonies. On December 4, George Washington dissolved his army at the Fraunces Tavern in New York, bidding farewell to the soldiers who had served him loyally during the conflict. Later that same month, Washington formally resigned from his position as Commander-In-Chief.
Ad blocker interference detected!
Wikia is a free-to-use site that makes money from advertising. We have a modified experience for viewers using ad blockers

Wikia is not accessible if you've made further modifications. Remove the custom ad blocker rule(s) and the page will load as expected.