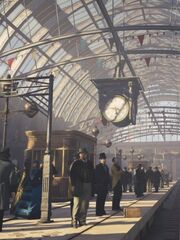 Here's some train history for you adrenaline junkies:
As railway stations were built around the city, Westminster became a desired location for the competing railways to control. In the end, Victoria station was built in 1862 and made up of two units run by two different companies: the western unit was owned and run by the London, Brighton, and South Coast Railway, while the eastern unit was operated by the London, Chatham, and Dover Railway. Each had its own entrance and was inaccessible from the other side.
In Oscar Wilde's The Importance of Being Earnest, Jack claims that he was found as a baby in a handbag in Victoria station, insisting that we was found on the Brighton side, implying a social superiority associated with the Brighton station. This perception of the two stations is supported by the fact that the Brighton Station featured an elaborate 300-room hotel called the Grosvenor while the Chatham station had no adornments or additional buildings attached to it.
Details like that are very important to babies.