Nassau//The Bahamas//1706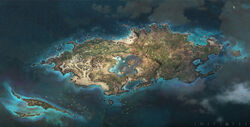 In July 1703, during the War of the Spanish Succession, French and Spanish troops attacked the British territory of New Providence, and ultimately burnt it to the ground. By 1706, no one ruled over Nassau.
In the aftermath of the war, thousands of sailors were left without work. Many of them stayed in the Caribbean, where they had been stationed at the end of the conflict, while others headed towards Central America from Europe. Most of these seamen sought to take advantage of the ungoverned territory.
Ad blocker interference detected!
Wikia is a free-to-use site that makes money from advertising. We have a modified experience for viewers using ad blockers

Wikia is not accessible if you've made further modifications. Remove the custom ad blocker rule(s) and the page will load as expected.