West Point//USA//1780-08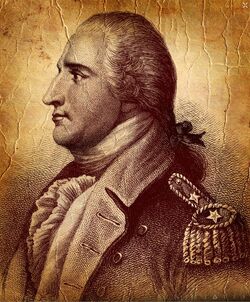 Benedict Arnold was a general serving in the patriot army who had earned a number of victories against the British during the Revolutionary War. In 1776, he forced the surrender of British general John Burgoyne at Saratoga. Despite his military successes, Arnold never received much recognition from the Continental Congress, and was often passed over for promotions. Moreover, Congress refused to pay the expenses of some of his campaigns. He was even accused of corruption, although he was proven innocent.
However, it seems that Benedict Arnold never forgave the Continental Congress for his poor treatment. In 1779, he began to send secret military information to the British side and, in 1780, he pushed Congress to obtain the command of the West Point fort in New York. He then offered the fort to the British in exchange for a position in the British Army and a vast sum of money.
Ultimately, Arnold's plan was exposed by the Assassin Connor, but he fled on the British ship Vulture. Benedict Arnold still managed to earn a position in the British army, but also a reputation as the greatest traitor of the American Revolution.
Ad blocker interference detected!
Wikia is a free-to-use site that makes money from advertising. We have a modified experience for viewers using ad blockers

Wikia is not accessible if you've made further modifications. Remove the custom ad blocker rule(s) and the page will load as expected.