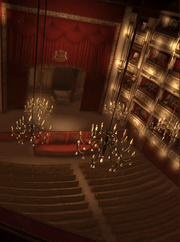 You might hear this referred to as "Covent Garden" (which it faces) or the "Royal Opera House" (which it later became). However, this is the original Theatre Royal building - opened in 1732, destroyed by fire in 1808. It will be rebuilt - then destroyed by fire again in 1857 - and then almost completely renovated in the 1990s. They've installed a smoke detector this time.
The original theatre lineup was varied, containing ballet, operas, even acrobatics. Many of Handel's operas opened here, right up until his death in 1759, when he mysteriously stopped writing them. But the building was mainly used for presenting plays, at least for the first hundred years of its history. The reason? It held the exclusive rights to perform spoken drama in London - awarded by King Charles II. Yes, kings could do that. Though why they would is beyond me.
Ad blocker interference detected!
Wikia is a free-to-use site that makes money from advertising. We have a modified experience for viewers using ad blockers

Wikia is not accessible if you've made further modifications. Remove the custom ad blocker rule(s) and the page will load as expected.