Massachusetts//British America//1783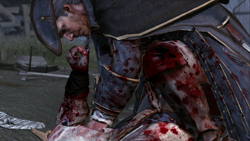 During his fight for freedom and liberty during the American Revolution, the strong-willed Assassin Connor rarely concerned himself with hesitation or doubt. However, one aspect of his life did arouse those negative emotions: his tenuous relationship with his father, Haytham Kenway.
Haytham stood in direct opposition to Connor's struggle, as he hoped to mould a changing nation to the Templars' will. Over time, Connor whittled down the influence of the Templars in America, but somehow managed to avoid an inevitable showdown with his father. In moments of naivety, both men hoped that the other might see sense and establish a truce.
That moment never came. In 1781, after an intense battle between father and son at Fort George in New York, Connor killed Haytham.
Months later, Connor returned to Davenport Manor and scrawled his regrets on the basement wall.