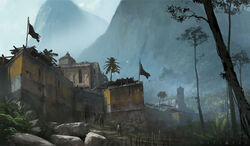 Established in 1514, Havana was a place where many merchant ships heading for Europe or Central America sought refuge before continuing their journey.
During the early part of the eighteen century, the city caught the attention of many pirate gangs. Pirates had been able to infiltrate Havana and contributed to the rise of corruption. Consequently, the harbor and the town became increasingly fortified, but this did not prevent further attacks from privateers and pirates.
Ad blocker interference detected!
Wikia is a free-to-use site that makes money from advertising. We have a modified experience for viewers using ad blockers

Wikia is not accessible if you've made further modifications. Remove the custom ad blocker rule(s) and the page will load as expected.