Panama City//Panama//1671-01-18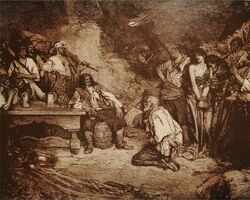 Born in Wales, Henry Morgan became a buccaneer who raided Spanish settlements in the West Indies. Operating under the tacit approval of the English government, it is believed that Morgan was part of an expedition to seize Jamaica from the Spanish government.
After participating in several similar quests, Morgan was appointed commander of the buccaneers in 1668, and he organized multiple raids on Spanish settlements. In violation of a treaty between England and Spain, he captured Panama City and burned it to the ground.
Ad blocker interference detected!
Wikia is a free-to-use site that makes money from advertising. We have a modified experience for viewers using ad blockers

Wikia is not accessible if you've made further modifications. Remove the custom ad blocker rule(s) and the page will load as expected.