Nassau//The Bahamas//1713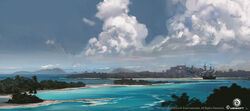 After the end of the War of the Spanish Succession, Benjamin Hornigold and other pirates stepped onto the beach at Nassau where they found it in ruins, full of abandoned buildings. The island of New Providence had already served as a buccaneer base in the 1690s, and by 1713, pirates began to meet in Nassau once again.
Tactically, the Bahamas were perfect for piratical enterprises. It was positioned right in the middle of European trade routes in the Caribbean. Moreover, Nassau was located in a labyrinth of islands where pirates could hide and plan their attacks on European merchant vessels.
Ad blocker interference detected!
Wikia is a free-to-use site that makes money from advertising. We have a modified experience for viewers using ad blockers

Wikia is not accessible if you've made further modifications. Remove the custom ad blocker rule(s) and the page will load as expected.